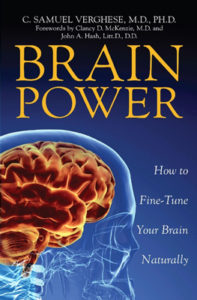 Dr. Samuel Verghese is a missionary physician. His latest book, Brain Power, is highly recommended for brain-mind power seminars. It's a must read for every Christian.
In the late 1970s, Dr. Verghese was one of the first to provide brain chemistry balancing, stress management and spiritual wellness programs to corporations and churches.
Brain Power is thoughtful, scholarly writing on a practical neuropsychotheology from a Christian perspective. Dr. Samuel Verghese can help you move from shallow Christianity to great freedom as a serious and joyful believer. Combining lucid writing with clear case studies form his own clinic experience, Dr. Verghese' s book constitutes a noble effort at grappling with some of the most difficult biblical concepts about the brain, mind, body, and conscience. It's also compelling as a resource in our ultimate purpose for balancing our brain and becoming more like Christ.
The inclusion of patient characteristics, the nature of disorders, and treatment protocols illustrates the importance of designing specific individualized treatments to balance brain biochemistry deficits.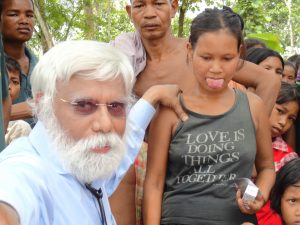 This one refugee woman requested a picture be taken with her.
---
"This latest book by Dr. Verghese is a ground-breaking volume by an extraordinary healer. As a clinician, I have seen first-hand the work that he has done with patients, such as a gentleman with an appalling infestation of winged parasites throughout his body. This man had been to some of our nation's finest medical centers for evaluation and treatment; none could successfully treat him. In Dr. Verghese' s care, his condition improved significantly after initial treatment with herbal formulations in just two weeks. Dr. Verghese' s integration of the spiritual into the healing process is profound. This book is essential reading for all in the helping professions and for laypersons wishing to better themselves."
— Bruce A. Naylor, Ph.D., Licensed Psychologist, former asst. prof. of counseling, Eastern University
---
"I heartily recommend How to Fine-Tune Your Brain Naturally. It speaks holistically and convincingly to your life, body, mind, and spirit with healing guidance by a true authority. I believe you and your brain are what you eat; have you heard that food goes straight to your head? The practical information in this book elevates this truth to a powerful therapeutic tool. The ninth chapter provides sample meal plans for an entire week; this alone is worth the price of the entire volume and there is so much more!"
— Ben Armstrong, Ph.D., M. Div., Former Ex. Dir., Nat. Religious Broadcasters; Hall of Fame Winner for NRB, 1998; Dir. of Doctoral Prog., Faith Theological Seminary, Baltimore, MD
---
Samuel Verghese, MD (IM) PhD, BCIA – EEG, Fellow, has more than 45 years of experience in holistic medicine. His investigation of the interrelationship of brain biochemistry, mind, spirituality, and physical health began in adolescence. His journey has taken him to many educational institutions (including Harvard University) and spiritual communities, which over the years equipped him to serve people with challenging needs. Beginning in the 1970s he had the privilege of conducting workshops across the United States on many topics including brain chemistry, stress management, and natural Christian approaches to health care and spiritual development.
His quest to discover new botanical healing remedies recently took him to the rain forest of South America. Throughout his journey as researcher and perennial student of life, devoted husband and father of three, author, clinician, formulator of nutritional supplements, college professor, volunteer Christian medical missionary and minister, Dr. Verghese has doggedly pursued his passion to heal and lead his fellow travelers to the triune God.
— James F. Claire, D.O.